Ski Resorts by Private Jet & Helicopter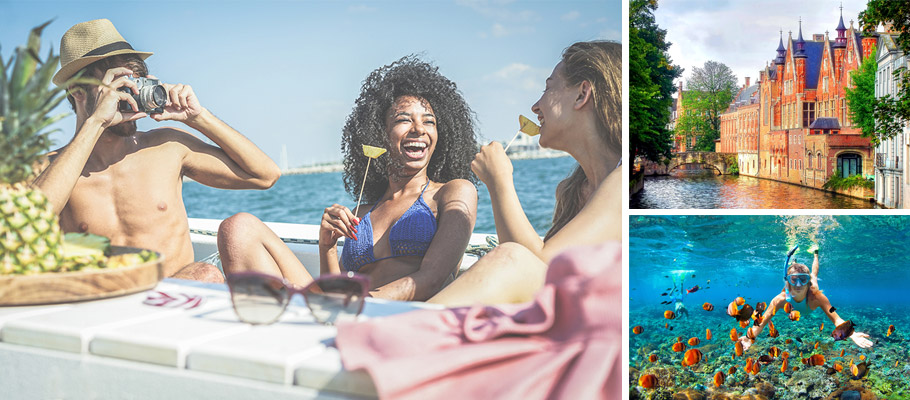 1.Gulmarg
Gulmarg is located 56-km south west of Srinagar, provides natural slopes, inclines, snow and gondola is primarily country's premier ski resort and a favorite winter tourist destination, Ski in Gulmarg is a wonderful combination of incredible Curry powder skiing and the unique Hospitable Kashmiri culture - Which Makes it one of the world's Most Adventurous & Memorable skiing experience one can ever have.
2.Gstaad
Situated at the centre of four valleys, the understated and traditional Swiss resort of Gstaad mixes great skiing with a variety of après-ski spots and luxurious accommodation.
3.Lech
This exclusive Austrian resort lies in the stunning Arlberg valley and is known for its large ski area, good snowfall and the limited number of skiers it hosts! Cosy mountain huts, decadent champagne bars and heated chairlifts spoil those who visit
4.St Moritz
One of the most famous ski resorts in Europe, St. Moritz oozes luxury. The resort offers tremendous skiing and snowboarding as well as lots of off-piste activities including ice cricket and the famous Cresta run.
5.Zermatt
Zermatt is one of the oldest and most popular resorts in the Alps. Fantastic all round skiing, and restaurants offering some of the best cuisine in the Alps.
Explore Caribbean by Private Jet
Chartering a private flight between Caribbean islands offers spectacular views combined with exclusive access to some of the Caribbean's more inaccessible islands. The geography of the Caribbean makes private charter a particularly convenient and direct alternative to scheduled flights - for business and leisure travellers alike. While we do offer international air charter to Caribbean Islands, some of most popular private flight routes are between St Barts and St Maarten, air charter from Miami to Anguilla, and private jet and helicopter hire for transfers from yachts and cruise ships.
Formula 1 Private Jet Charters
A private jet to the Grand Prix means we can get you closer to the race and home quicker after the race. Take a jet from your local airport to the nearest airport to the track. Helicopter transfers are also available.
Romantic Cities
1.Venice, Italy
Surprise your loved one with a trip to this enchanting city which floats atop an intricate network of canals. With stunning architecture, masterful art and a vibrant history, Venice is sure to impress. Picture this: relaxing with Champagne and snuggling up to your significant other, in your private gondola without a care in the world as you float past endless magnificent examples of Italian architecture. A real taste of old-school romance.
2.Granada, Spain
Shadowed by the Sierra Nevada Mountains, Granada has been shaped by the hills with steep, narrow streets and delightful pocket courtyards. The Andalusian city boasts a rich Islamic history which produced some of the finest architectural wonders in the world, such as The Alhambra – a 1000 year old Palace, now a world heritage site. You and your loved one can leisurely meander through old streets, take in the exquisite views of The Alhambra set against the backdrop of the Sierra Nevada Mountains and end the day with a dip in the city's Arab baths – Hammam Al Andalus.
3.Reykjavik, Iceland
Known for its invigorating outdoor activities, Reykjavik is the ideal valentine's destination for the more adventurous. An endless list of things do includes; horse riding in the red hills of Heidmӧrk, skiing at Bláfell, sea-swimming at Nauthólsvik geothermal beach, volcano tours or simply relax in one of the many thermal pools and spas across the city. Reykjavik's surrounding landscapes are unquestionably beautiful and the city itself promises a vibrant cultural scene. All in, a sure-fire hit for valentines with a difference.
4.Bruges, Belgium
Bruges is a compact and beautifully medieval city with quaint cobbled lanes and market places, edged with looming historic towers and churches. The enduring gothic architecture and numerous canals will have you thinking you were on the movie set of a picture perfect European City. Bruges is a fantastic place to just wander around and soak up the charming atmosphere and with a variety of bars and restaurants, you'll be spoilt for choice in this fairy-tale city.
5.St Tropez, France
Following Brigitte Bardot's visit in the 50's, St. Tropez has ever since been a place of luxury, style and sophistication. Although you're more likely to get a famous 'St. Tropez tan' from a bottle than the sun in February, this fishing village offers a tranquil ambience outside of the summer months which to many, is part of the appeal. Enjoy a slower pace of life; savour a Champagne and seafood lunch in a cosy café, stroll along the harbour and take in the super yachts, discover antique treasures in the markets or indulge in some glamorous boutique shopping in this French Riviera gem.
6.Mykonos, Greece
There is something about Mykonos, it is magical. Mykonos´ atmosphere captivates travellers. There is no doubt why this Greek island is included in Top World Islands Lists. It is a destination that offers a variety of options to all kind of travellers. Either if you are looking for a relaxing holidays with your family or you seek a glamorous time in chic clubs and posh restaurants, Mykonos has got everything. The sandy beaches, narrow streets, stylish shops or exotic restaurants along with the stunning whitewashed houses with blue doors and the original churches with blue domes…they all form a stunning landscape difficult to forget.
7.Santorini, Greece
Romantic, stunning and simply unforgettable. This unique island, otherwise known as Thira, located within Greece's Cyclades Islands in the middle of the Agean Sea, is famous for its sunsets (said by some to be unparalleled), pretty blue-domed churches, black sanded beaches and breathtaking views. Santorini is famous for all kinds of luxury vacations, from romantic getaways to dream honeymoons, from unforgettable weddings to fun-filled island escapes with friends.The iconic white-washed homes tumble down the cliffs at Oia, Santorini's charming town known mainly for its spectacular sunset celebrations.
8.Caribbean Islands
People who want to spend a romantic or family vacation may try and discover the six top islands found within the Caribbean region. These islands are the Anguilla, St. Barts, Mustique, Aruba, Necker Island, and Turks & Caicos. Anguilla, which is popular for having the most attractive beaches in the Caribbean area. There are private beaches that can be chartered in order to have a more relaxing vacation with family and friends. St. Barts is considered as an ideal vacation spot for couples. The best feature of the island is its collection of 14 unique white-sanded beaches that are big enough to prevent the swarming of visitors. Mustique is an island that contains 9 amazing beaches that are very much distinctive from one another. Necker island, which is a special Caribbean attraction spot that can be accessed only through a helicopter or a boat. The island also has stunning sandy beaches, greenish-blue water, and wonderful coral reefs. Turks & Caicos is perfect for those who enjoy cruises since tourists may rent out private yachts and sail the waters surrounding the island.
9.Marrakech, Morocco
Discover the romance of exotic Morocco, surrounded by vibrant sights and sounds. For romance that will sweep you off your feet, the tantalizing world of Marrakech is home to amazing restaurants, fascinating history and unique character.
10.Mauritius
For romantic vacations in Mauritius, the small tropical island is filled with white beaches, calm seas, international culinary traditions and a reputation as one of the most elegant luxury travel destinations in the world.
11.Koh Samui, Thailand
Thailand's third largest island is a land of coconut trees, ribbons of sugary beaches and flourishing tropical gardens. Koh Samui remains largely uninhabited and has a natural beauty and charm befitting any type of luxury vacation.
12.Bali, Indonesia
This is a land of impossible beauty: wide beaches, elaborate Hindu temples, and terraced rice paddies unfolding in a checkerboard against the mountains.
13.Kerala, India
This lush South Indian state—the birthplace of ayurveda—is an intricate web of calm backwaters.
Fly to top 3 places to view Northern Lights
Considered to be one of the world's most magical natural resources, the Aurora Borealis is a breathtaking wonder that colours the sky in a multitude of ethereal hues. Best seen between November and March, their spectacular appearance is created by solar particles drawn towards the Pole then crashing into the Earth's atmosphere. Here is selection of the three best areas for witnessing the phenomenon that is the Northern Lights.
1.The Northern Lights of the Yukon, Canada
Emblazoned with a rich tapestry of soaring, snow-capped peaks, boreal forests and glacier-fed rivers, Canada's Yukon boasts an unspoiled wilderness far from the crowds of winter-sports resorts and is one of the best places in the world to observe this natural marvel. Northern Lights viewing takes place in the evening, and what an experience it is stepping out into the crisp night air, the squeak of your footsteps on the hard-packed snow; the magical ambience of a Yukon winter. Embrace the full Yukon experience and spend days in this snow-covered landscape dog-sledding, snowshoeing or ice fishing.
2.Icehotel, Jukkasjärvi, Sweden
Created afresh each year by international artists, entirely hewn from ice and snow, the Icehotel is as unique as it is transient. Standing 200 kilometres north of the Arctic Circle, the location of this temporary landmark of snow and ice provides the perfect vantage point for the spectacular light show. Take the Northern Lights tour, an exhilarating experience where you drive your own snowmobile, racing across the frozen Torn River and out into the wilderness chasing your first glimpse of the billowing, dancing lights. Stopping at a wooden hut to sit around a roaring fire and devouring heart-warming goulash – what a perfect place to sit and wait for a glimpse of the spectacle, faces turned to the night sky.
3.Kakslauttanen Arctic Resort, Finland
In the deep mid-winter, when the sun doesn't rise, the frozen landscape exudes a mystical blue light around this Arctic Resort; and it is during this time between – October to March – that you have the best chance of catching a glimpse of the Aurora Borealis. A combination of log cabin and glass igloo accommodation comprises a stay here – and both are superb in their own way. The log cabins are a back-to-nature retreat with fireplace and sauna set amidst snow-covered pine trees. By contrast, the appeal of the glass igloos lies in the thrill of being able to snuggle down into your cosy bed and look up at the night sky, just waiting for a tantalising glimpse of the Northern Lights. The igloos are built in a traditional dome shape with thermal glass walls and ceilings – fully insulated, very cosy and the glass never frosts so you always have a clear view of the night sky.
Private Golf Charters
The Masters Golf Tournament is without a doubt one of the biggest golfing events in the world, setting off a run of four key events commonly called "the majors": Masters, US Open, Open Championship, and PGA Championship. Held at the Augusta National Golf Club in Georgia, the tournament attracts droves of spectators, industry leaders and professionals, which naturally correlates with an increase in private jet travel. After all, you have to get there somehow. Visit Bandon, Oregon; Kohler, Wisconsin for private golf breaks.